There are 5 stunning coasts in Calabria, the best places to stay; the Jasmine Coast, the Coast of the Gods, Viola Coast, Cedro Coast and the Coast of Oranges. Each name refers to what you can find along that coastline. The jasmine coast is also famous for its bergamot fruits as well as clusters of Jasmine flowers growing wild everywhere.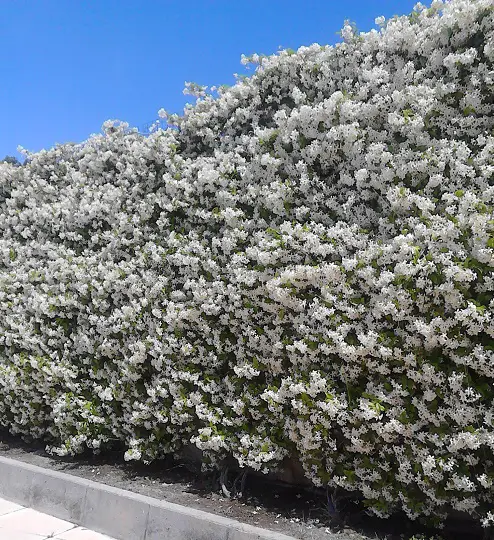 The fragrance of these jasmine flowers is very pleasant and you can smell this everywhere along the Jasmine coast. I would like to tell you a little bit about each coast and recommend the towns worth staying in.
The Jasmine Coast – historical places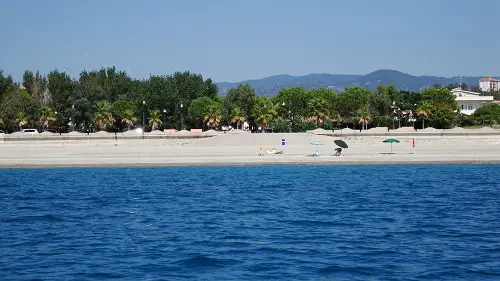 The Jasmine Coast runs from Riace to Locri. There is plenty to see and do in this area. The towns worth staying in are Caulonia Marina, Roccella Ionica, Gioiosa Marina, Siderno and Locri. They are seaside resorts with plenty shops, bars and restaurants. They have wide beaches with nice seafronts for evening walks especially in the summer when they are full of people. All the beach bars, restaurants and lidos stay open late and there are many festivals and concerts to enjoy during this period.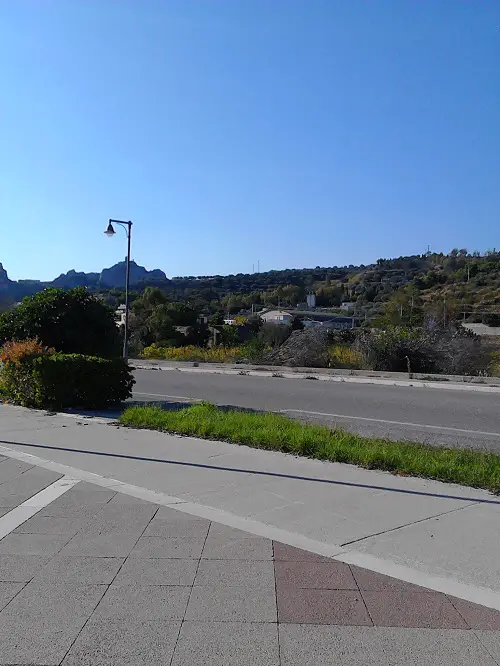 The main road SS106 goes along the coast reaching all these towns, but there is also an alternative panoramic route which is quick with a few tunnels and allows you to see the coastline from high above. You will see when going along the coastal road the sea on the left and the countryside on the right.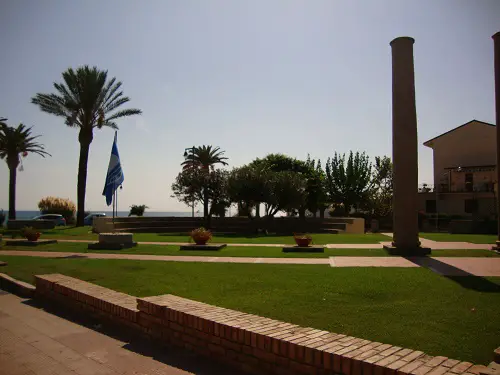 The scenery is stunning. On the left, you see the turquoise clear blue sea for miles and on the right, you can see the mountains, agricultural land with olive groves and citrus trees. In between them, you will find beautiful villas, houses and lots of greenery. There are always nice restaurants situated along the coastline and a few hotels.
Recommended attractions to visit in these places are:
Caulonia Superiore for its byzantine fresco, 13 churches, medieval and baroque style buildings as well as its spectacular views
Caulonia Marina for its saracen tower, parks and seafront
Roccella Ionica for its seafront, main square, churches, 15th century noble palace, Saracen tower and convent "dei minimi" where they hold many events and concerts.
Gioiosa Marina is famous for its Greek Roman theatre and Saracen tower
Gioiosa Superiore for its Medieval style buildings and churches
Siderno Marina for its shopping and seafront and plenty of entertainment in the evenings, especially during the summer
Locri is famous for its Greek archaeological site, seafront and shopping.
How to get along the Jasmine Coast
The best way to reach these towns is by car. If you do not want to drive, there is a bus service called Federico which stops at each town along the coast or the train which mainly stops at Roccella Ionica, Gioiosa Marina, Siderno and Locri. These towns are only about a 10-15 minute drive away from each other. You will find some hotels and B&Bs in each town and plenty of bars and restaurants.
There are many festivals during the summer such as the Jazz festival in Roccella Ionica, the Tarantella festival in Caulonia Superiore and a huge festival in Siderno which takes place at the beginning of September (Melito di Salvo) as well as plenty of religious ones.
The Coast of the Gods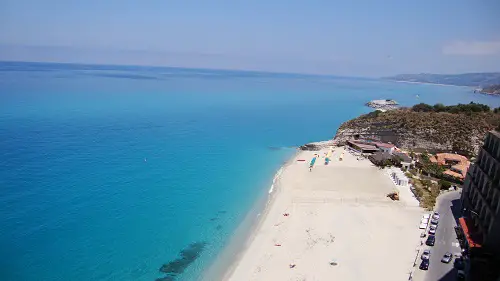 The next coast is Coast of the Gods, which rightly lives up to its name. It is a paradise, a stunning coastline with the most beautiful picturesque towns such as Tropea, Vibo Valentia and Pizzo. The winding narrow road stretches from Nicotera to Pizzo. The beaches are almost powder-white with beautiful blue sea.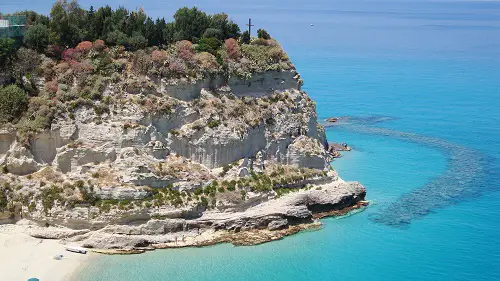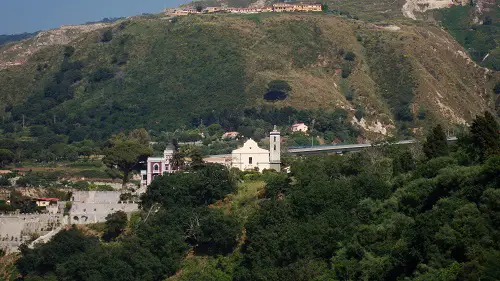 There are wonderful churches to visit such as the sanctuary Santa Maria in Tropea which sits high up on a rock overlooking the sea and the Piedigrotta church in Pizzo. There are plenty of bars, shops and restaurants in most towns as well as along the coast. You will find many hotels and B&Bs here. It can get very busy in July and August so I recommend going out of season.
The Viola Coast – picturesque places
The Viola Coast stretches from Bagnara Calabra next to Reggio Calabria to Palmi. Words cannot describe the beauty of this coast. The best towns to stay in are Scilla, Palmi, Bagnara Calabra and Reggio Calabria. The coast is renowned for its purple spectacular sunsets which light up the whole coast with different hues of purple.
The coast is famous for its rock formations, beaches and sword fish. There is a wonderful sword fish festival in Bagnara in August. All towns have many events going on all year round. You can visit at any time of the year. There are plenty of bars, restaurants and shops in each town.
The Coast of Oranges – scenic places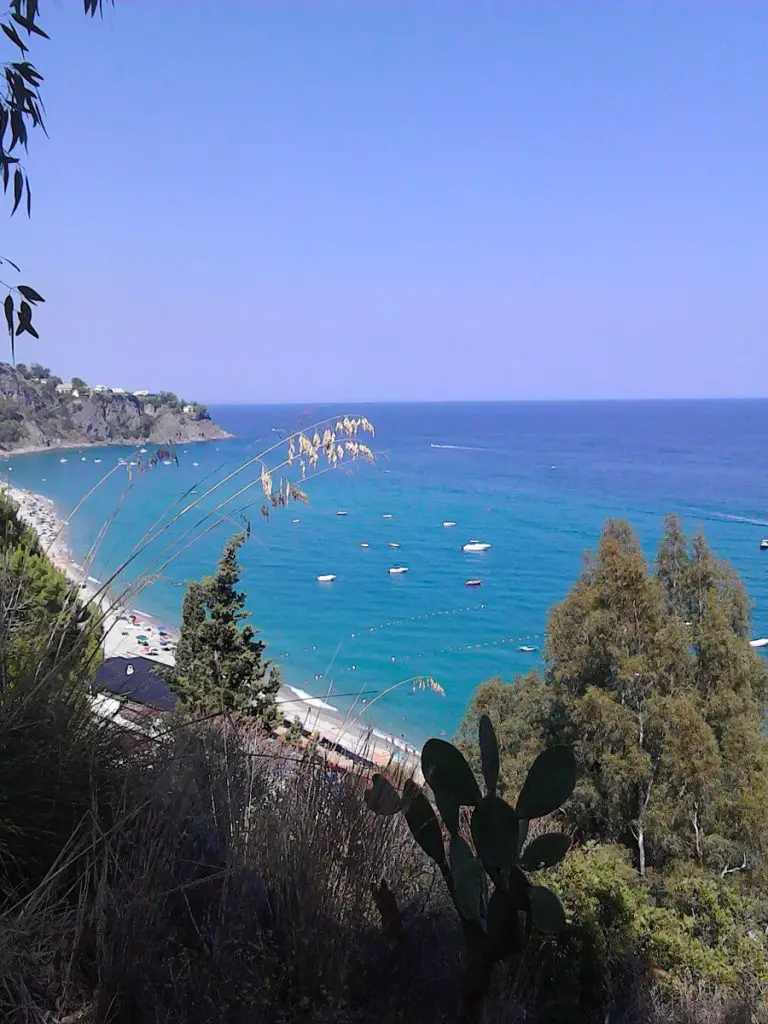 The Coast of Oranges stretches from Soverato to Catanzaro. The best places to stay in are Soverato, Pietragrande, Caminia, Copanello, and Squillace lido. You can smell the scent of oranges in the air as you walk around. The best beaches are on this coast as well as its stunning coastline with hidden coves and rock formations.
There are many holiday resorts and hotels here as well as B&Bs. You will find some of the best panoramic restaurants overlooking the sea. I have written about these places in the blog. Here I just wanted to focus on the best places to stay in.
The Cedro Coast – panoramic places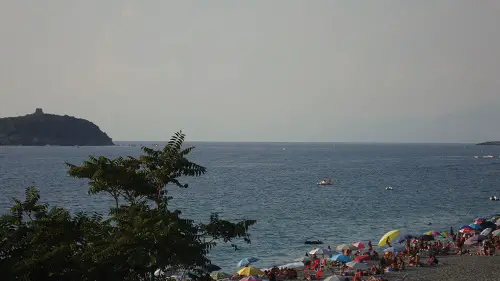 The Cedro Coast stretches from Praia a mare to Diamante. Here you can find the large lemons they use in salads. They grow everywhere and are very pretty to look at hanging from the trees. This coastline is spectacular for its stunning scenery all along the coast overlooking the sea.
The beaches are of black volcanic sand with beautiful blue sea. The best places to stay in are Praia a mare, Scalea, San Nicola D'Arcella, Cetraro, Belvedere marittimo and Diamante, There are plenty of shops, bars and restaurants in those towns as well as lidos and nightlife. You will find plenty of accommodation along this coastline.
5 stunning coastlines in Calabria where it is possible to explore two coastlines in one day. You can combine the Jasmine Coast with Coast of the oranges in one day. It is recommended to stay overnight when visiting the Cedro Coast, the Viola Coast and the Coast of the Gods.
It is always recommended to spend a few days in each coast to really explore what they have to offer. You won't be disappointed. You can also read about all these places as I have described them in detail in earlier posts. Take advantage of the Calabria deals on the home page to stay in these places. If you do not want to drive around, you can go on our guided tours which you can find in this blog.