There are many bathing platforms in Palermo in different beach locations, but one of my favourite lidos is Mondello, only 30 mins away from Palermo airport. This is a perfect location for those who want to combine sightseeing with a relaxing beach holiday. The centre of Palermo from Mondello beach is only 25 minutes away (11 km). You can go there by rental car, local bus or taxi.
Bathing establishments
Actually, many tourists stop off at Mondello for a few days and then there are the Italian tourists who come from the North of Italy, Rome or other parts of Italy who come for 4 weeks either in July or August. The best time to visit Mondello is any time except July or August. Italian tourists usually pay weeks in advance for one of those sought-after bathing lidos.
I was surprised by the many changing cabins there. At first, I thought they were there on show, perhaps used only in the past like you see in the old films but then my husband told me that people still use them today. Many families bring a huge packed lunch (baked pasta) with them and all their beach stuff and of course need somewhere to store their belongings. They put some of their food in huge thermal bags and water in giant containers, some of this food includes an enormous watermelon.
Beach services in Mondello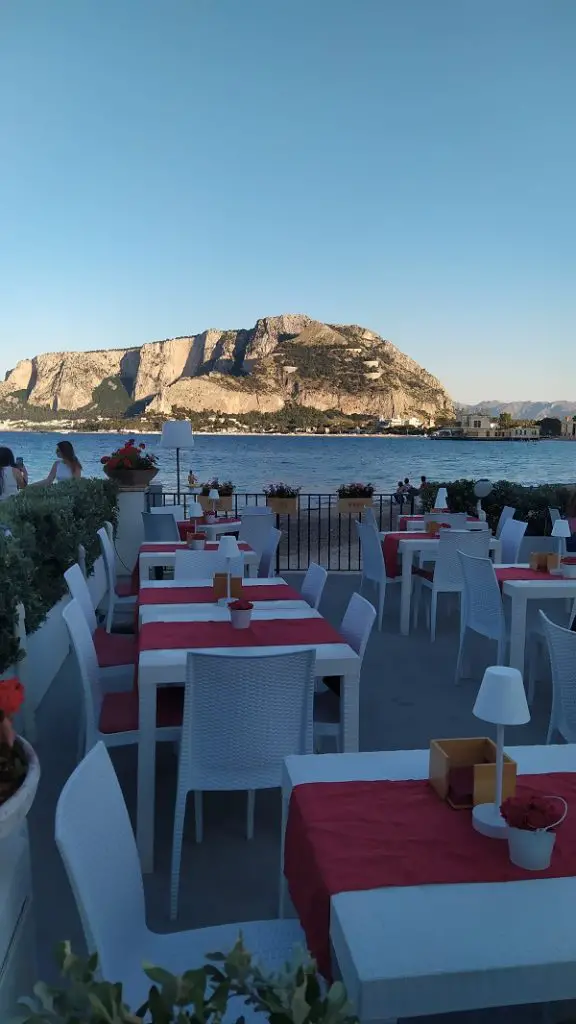 Some families consist of 10 people or more, including the grandparents. The cost for the day is 22 euros but if you book it for longer, the price is much lower. Most Italians book for at least one month. This includes a sun lounger, parasol and access to a changing cabin as well as to the bar and restaurant service. However, there are free beaches but very difficult to find a spot in July and August.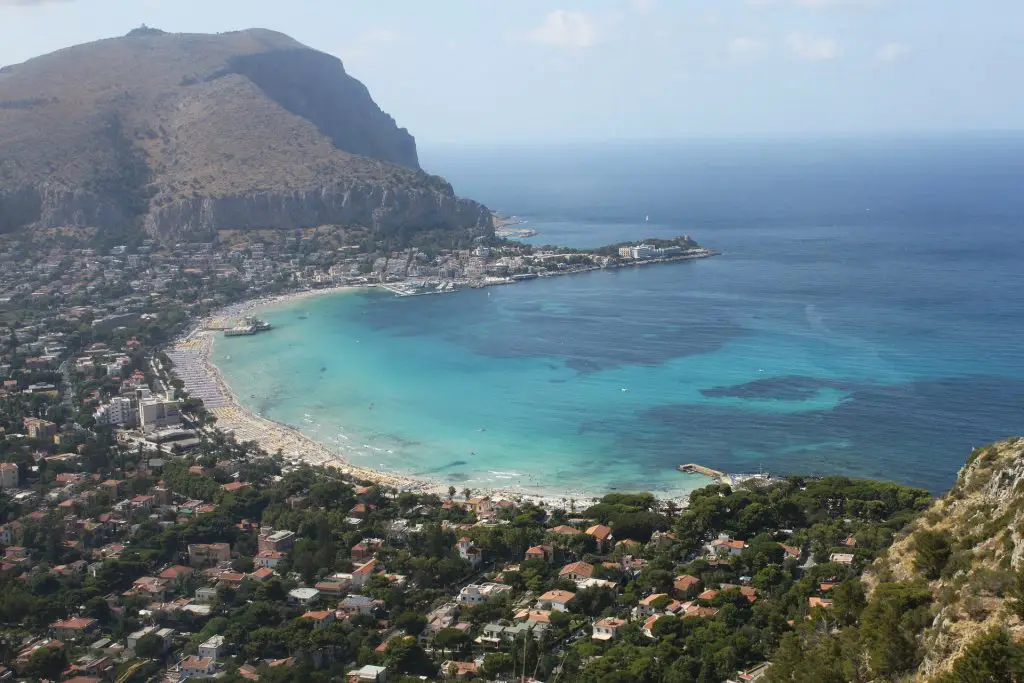 Mondello is one of the most popular and beautiful beaches of Palermo. All the residents come here to swim and escape from the bustling city of Palermo. You will see luxury villas everywhere nestled up in the mountains with a view of this beautiful beach and its turquoise sea. Many of those are holiday homes. See some villas here. Many wealthy Italians own a property here. The promenade stretches for 1.5 kilometres with bars, shops and restaurants.
Fish restaurants in Mondello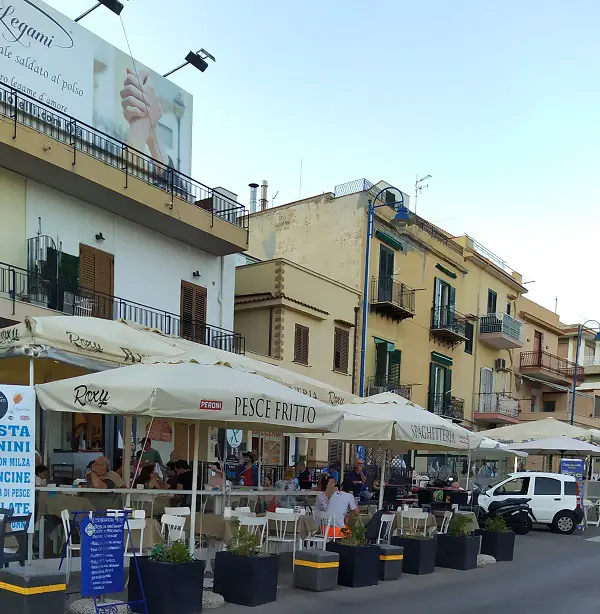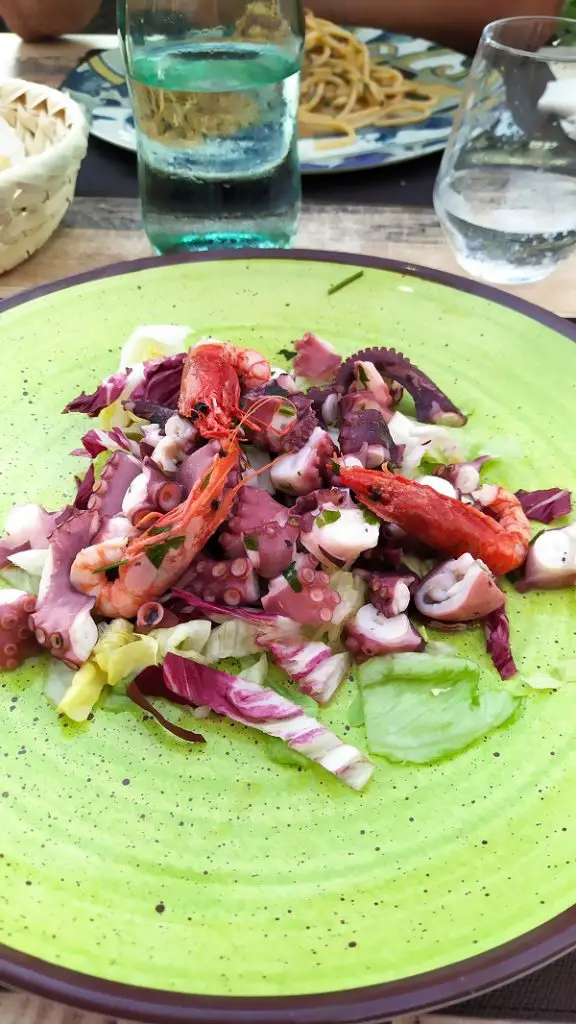 One of the most famous and expensive restaurants is Charleston. An art nouveau type building where many VIP's would dine. It is expensive, although you can find reasonably priced dishes. It is a real treat to eat there in its elegant surroundings with stunning views of the sea. In fact, you are right on the sea. The best fish restaurants are at the end of Mondello beach towards the port in the fishing district. It is a quaint district with excellent fish restaurants and ice cream cafes.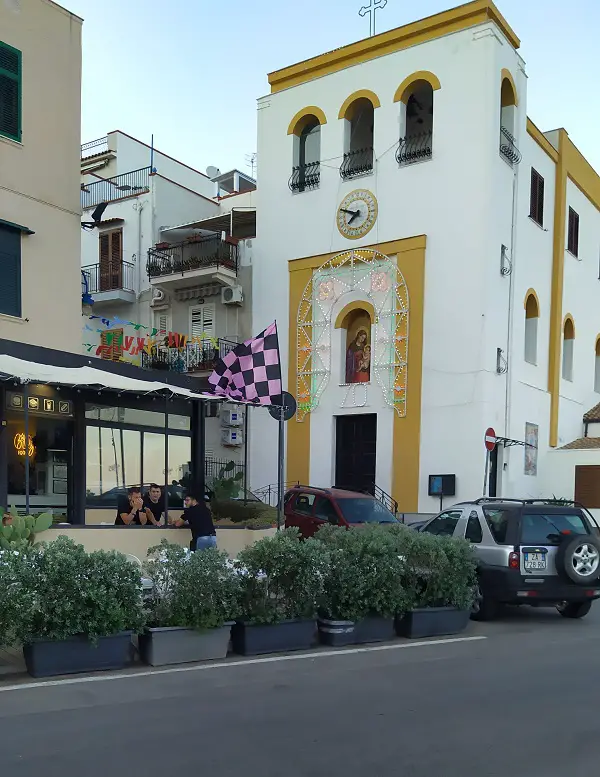 Life revolves around the little church and bathing lidos. Mondello is a great stop over to relax and enjoy the beach before heading into the centre of Palermo. You can read more here about the city of Palermo. Cefalù is another beautiful beach resort which is about one hour from the centre of Palermo. Read more here about Cefalù. Why not also visit Calabria from Sicily. You can take the ferry from Messina to Villa San Giovanni. Use my travel resources here to get around.