Have you heard of the Sicilian Baroque town Militello? Perhaps not. Officialy known as Militello in Val di Catania, only 1 hour from Taormina in the South of Italy. Everyone in Italy knows about this town as it is where the famous TV presenter Pippo Baudo was born. I, on the other hand, had not heard of it. I happened to be in Palermo when a former colleague of mine rang and got excited telling me about this Sicilian Baroque architecture. I would like to share with you my experience in Militello.
The typical Sicilian breakfast
Louise who used to work with me was a Tour Manager working in Sicily. A Sicilian friend invited her to spend some time in Militello. She asked me and my husband to join her for a couple of days. It was another town to discover and I jumped at the chance of going. My husband wasn't so keen as he just wanted to get back to Calabria.
It was quite a drive from Palermo but easy to reach from Catania. It is located in the plains of Catania full of agricultural land, especially orange groves. The road was winding all the way up to the hill top town of Militello.
The views are spectacular. 413 metres above sea level. We finally reached the top, parked the car and headed for the nearest bar. We ordered the typical Sicilian breakfast Granita with a brioche. It was the best granita ever. My husband had his topped with whipped cream, which is an optional. It was time to meet Louise and Onofrio.
Sicilian Baroque architecture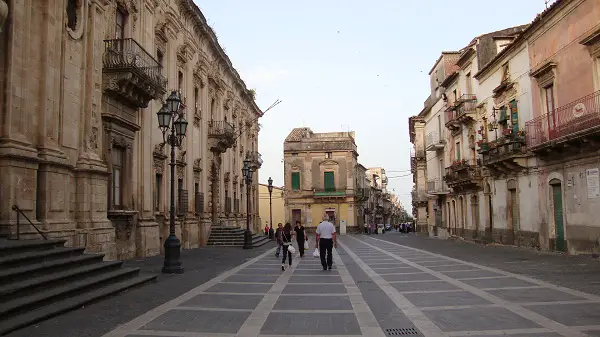 I met Onofrio her Sicilian friend from Militello who offered to host us in his home for a couple of days. First, he took us on a guided tour proudly showing us this Sicilian Baroque town. The Sicilian Baroque architecture is impressive, especially the magnificent churches and noble buildings. This town took my breath away. If you are after a real typical Sicilian town then Militello is ideal. The town is an open air museum with plenty of art and history.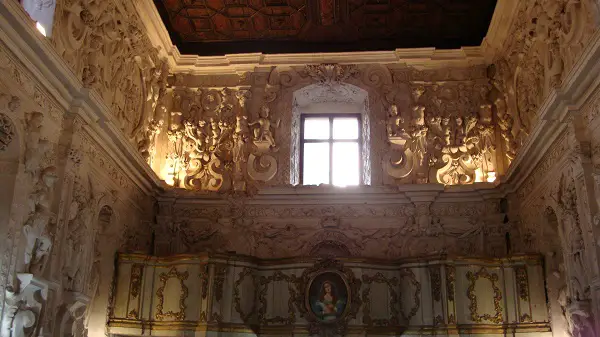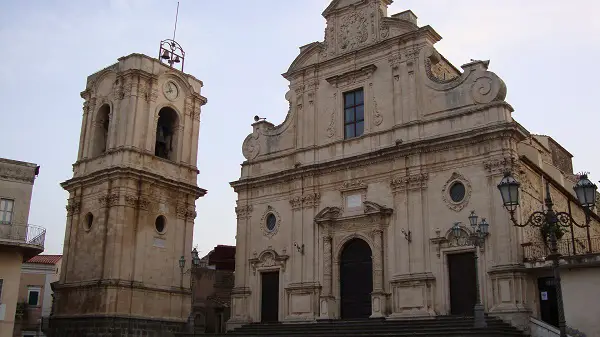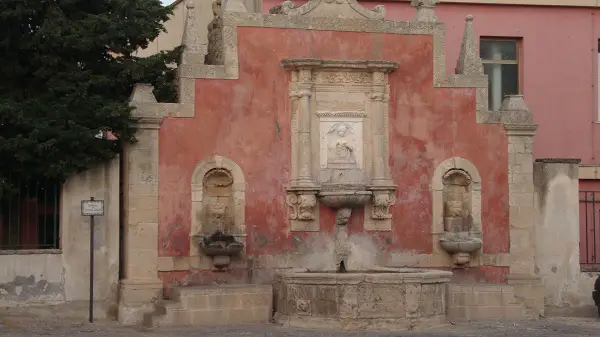 Beautiful frescoes adorn the churches, some dating back to as far back as the Greek Byzantine period, a Norman castle, a beautiful fountain built in 1607, the fountain of the nymph Zizza. It certainly is an interesting fountain with a white marble sculpture of the nymph Zizza. It seems to be the main attraction for many.
Passing Sicilian Baroque buildings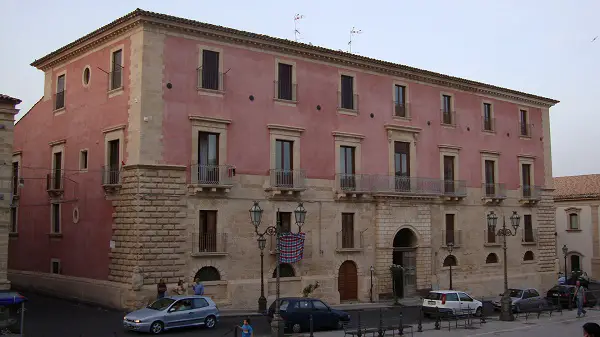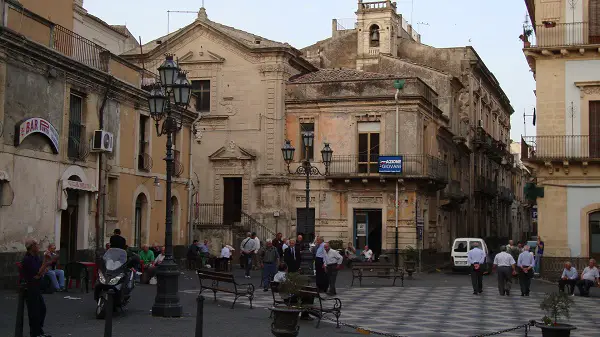 We sat in the lively square with a cool drink people watching, exhausted after Onofrio's tour passing all these Sicilian Baroque buildings. A great place to sip your drink outside and look at these monumental masterpieces.
Onofrio was so proud to belong to this town. I must admit, I didn't see many young people there, but plenty of retired elderly men standing around chatting to each other and staring at us in complete bewilderment. Onofrio was getting peckish and it was time for us to go to his home.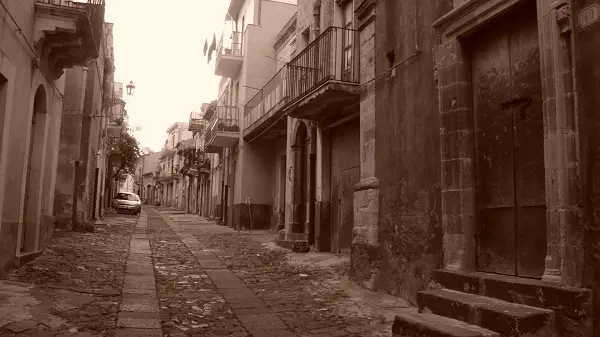 We left the main square and walked along the narrow cobbled streets. I took some pictures of peoples' homes as we were walking. We passed many Sicilian Baroque buildings and then further along this cobbled alley, we reached Onofrio's home. There was a heavy metal main door which led us into a courtyard and then up a spiral staircase. It was an interesting building.
Onofrio's Sicilian home
Me and my colleague were used to taking groups around so it was nice to have been given a guided tour of the town by a local person. My husband kept wondering when we would finally have lunch and relax. After all, he had driven from Palermo. I was just excited to explore this town, but even I had to admit defeat. Hunger prevailed.
As soon as we arrived at Onofrio's place, we could smell that wonderful tomato sauce Onofrio had prepared just before he came and got us. He was making pasta alla Norma. First, he wanted to show us around his house. My husband was thinking "can we have lunch first", noticing that the place was strange-looking, one of those old buildings that needs some serious renovation project. He described it as an old curiosity shop. There were weird and wonderful objects everywhere.
Our Sicilian lunch
In fact, Onofrio was in the middle of renovating and apologised profusely for all the boxes, old trunks and other things that were lying around. Once he had paved the way for us to actually make it safely into the kitchen. We felt relieved. It was a large bright tidy room with a typical ceramic kitchen. Onofrio made us a wonderful lunch; pasta alla Norma, steak with marinated vegetables and pastries for dessert.
We collapsed into the chairs and ate very happily and drank Onofrio's home made wine. After lunch we could finally relax but not for long as Onofrio wanted to take us exploring as well as hiking. He showed us the room where we would be sleeping. It looked a little dark. In fact, all you could see was dark wooden furniture with a small window barely letting any light into the room.
Exploring more the Sicilian Baroque town
A huge wooden cross hung above the bed as well as picture frames of the Virgin Mary. This was the room where Onofrio's mother slept. We didn't care as we were just glad of the hospitality and somewhere to rest. We had barely put our heads down when we heard Onofrio shouting about coffee. Off we went downstairs and sure enough there was that wonderful smell of fresh espresso coffee.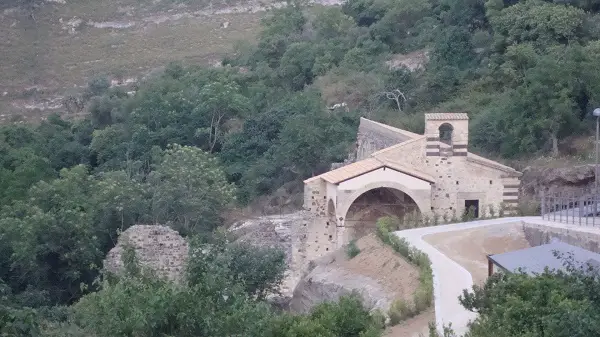 After our coffee, we set off again but this time, we went to a rural area. At one point, we had to go down a steep flight of stony steps until we were in this green countryside full of orange trees. Everywhere you looked you could see orange trees. It was getting dark so we were only glad he was with us otherwise we would have got lost.
We reached the square just in time for an aperitif and decided for a pizza takeaway back at Onofrio's. The next morning after another wonderful granita in the square for breakfast, it was time to head back to Calabria. Overall, a great experience. We left the next day for Calabria.
This Siciilian Baroque town is definitely worth visiting and easy to reach from Calabria. A real Sicilian town. You only have to get the ferry or hydrofoil to Messina and follow the motorway signs for Catania and then Militello in Val di Catania. The journey takes about 2 hours from Messina. Read more here about this wonderful town. You can also visit Taormina, only 1 hour away from Militello. I recommend combining a visit to Taormina with Militello. Two amazing Sicilian towns. Read more about Taormina here.