Not so far from Mammola on the Jasmine Coast, you will find the Musaba art Museum. It is an unusual museum with lots of mosaic sculptures. It sits on top of a hill with spectacular views overlooking the whole of Mammola.
An art lovers dream
Once you walk through the gate, you will find yourself in another world. I was truly amazed. Being an enthusiast for mosaics, I could not believe I had found this place. I was so happy to walk around and admire the incredible art work.
This place was the hard labour and dedication of two enthusiastic artists. This place and the incredible art work deserves to be shown to the world. People need to know about it, especially art enthusiasts.
It is an amazing find. This was the dream of two artists who made it possible for us to visit and a gift to Calabria. A great day out for the family. I recommend bringing a picnic. Kids will love it, adults too. There is plenty of open space for them to run around. A definite must.
Sculptures and mosaics everywhere
The first thing you see when you enter is an incredible lizard sculpture. A path leads you into well manicured gardens with typical Calabrian flora everywhere. Then you see sculptures and works of art everywhere. You can also read about other mosaics here.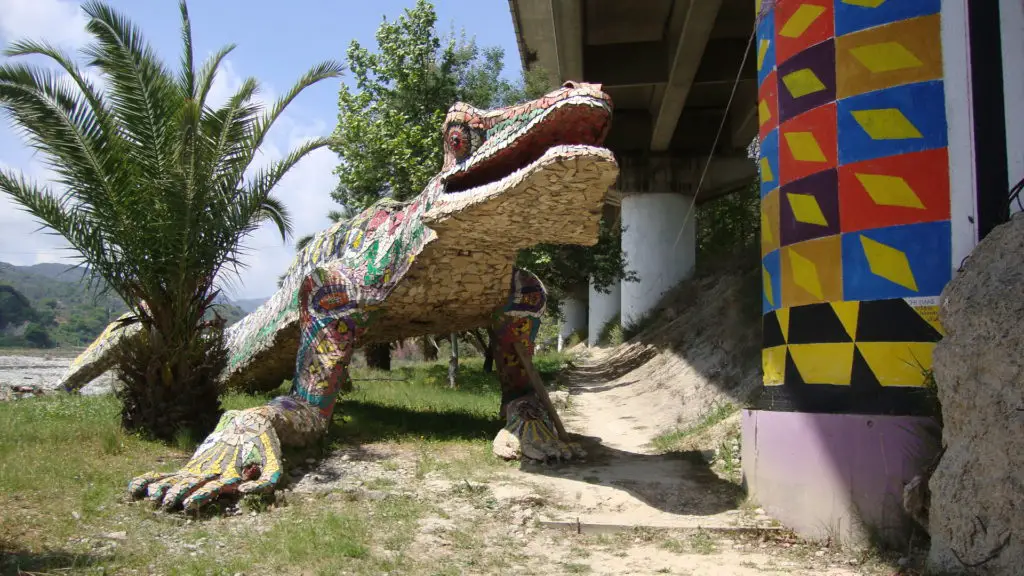 Art classes at the Musaba museum in Mammola
The owners have art classes and organise art holidays for artists from all over the world. You can visit another building where there is a beautiful ornate floor and a multitude of objects displayed everywhere. There is a small admission fee to enter this part of the museum, but definitely worthwhile. The rest is completely free.
Picnic areas and art drawings
They even let you have your packed lunch at the picnic tables which provides some shade from the hot Calabrian sun. It was a great find for me as I again discovered it by chance. There are plenty of citrus and olive groves which surround you as well as spectacular views.
Opposite the picnic area you can see many walls with classical art drawings. The thing that really caught my eye was the colour of them. They are painted in beautiful Mediterranean colours. Artists will love this place.
The giant sculpture
When you are driving along the main road to Mammola, you cannot help noticing this giant sculpture. That's how it got my attention. It is definitely worth seeing. Sadly there are no signs directing you to this museum. I was curious when I saw that giant sculpture and had to find out what the building was. I was more than surprised. Another hidden Calabrian delight. See more here about the museum.