Calabria is a fascinating land full of hidden surprises and dramatic rock formations. An unspoilt region with rugged high rock cliffs and rocky coastlines as well as stunning beaches both sandy and pebbled. As you explore Calabria, you will come across some of these amazing rock formations. I would like to share with you my favourite ones. Calabria boasts impressive geographical features due to tectonic activity. It faces the island of Sicily with full view of the Stromboli volcano smoking away in the Aeolian islands and views of majestic Mount Etna from Reggio Calabria.
Pentedattilo rock formations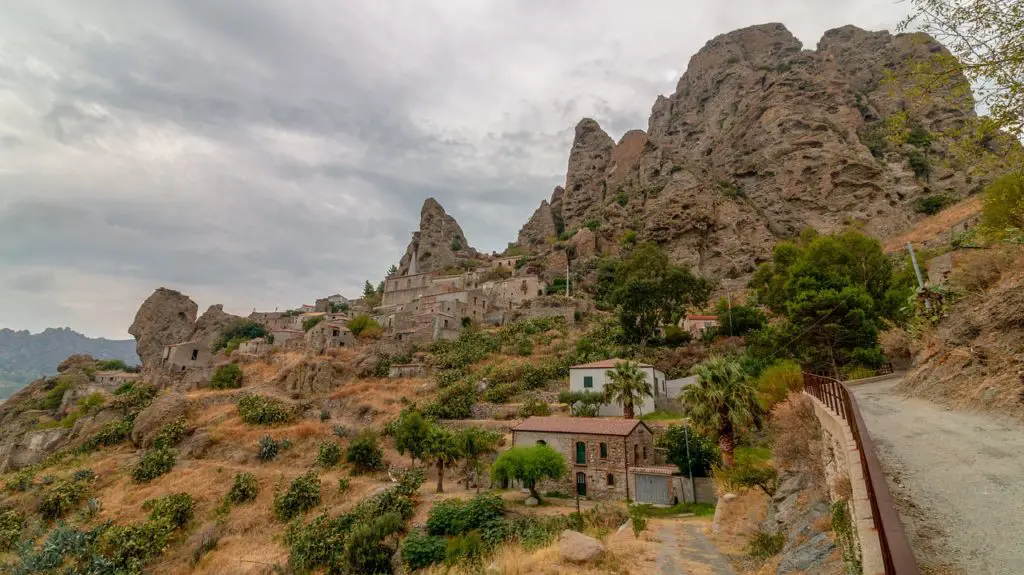 Pentedattilo is located in an area of Melito di Porto Salvo close to the city of Reggio Calabria. It once was an abandoned town difficult to reach, but today thanks to the Tourism authorities, many people can come to visit this town nestled between the rocky cliffs of mount Calvaro, which looks like a giant hand with five fingers sculpted out of rock. Incredible rock formations.
Below these giant fingers of rock, you can find some abandoned dwellings as well as those inhabited by artists and artisans. It is a fascinating village with a beautiful church and castle. Every year in August there is an important festival full of local traditions as well as the Pentedattilo film festival. You will see many objects made out of ceramic, wood and glass as the talented artists hand-craft them.
Palmi rock formations with olive tree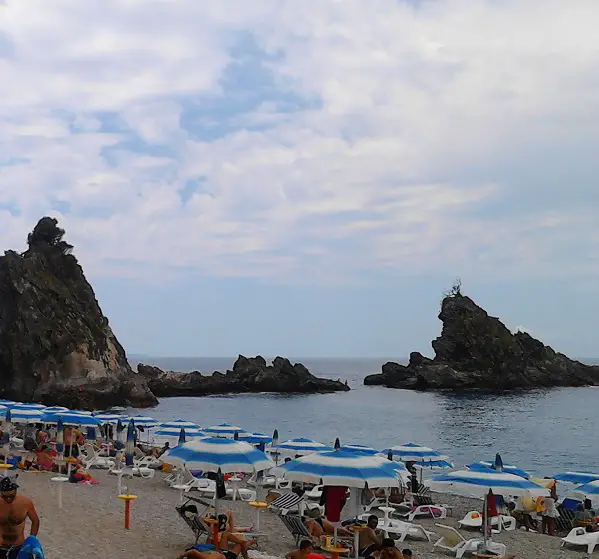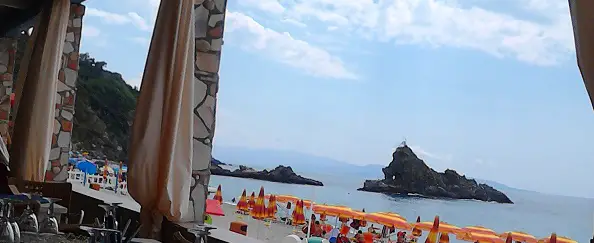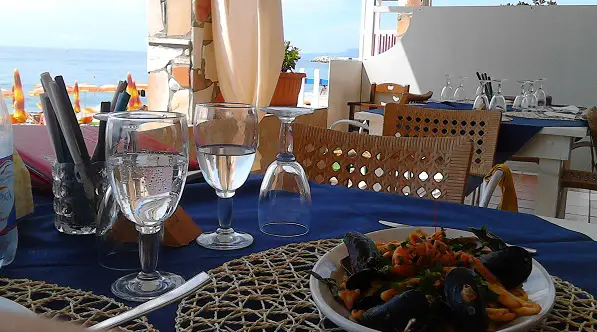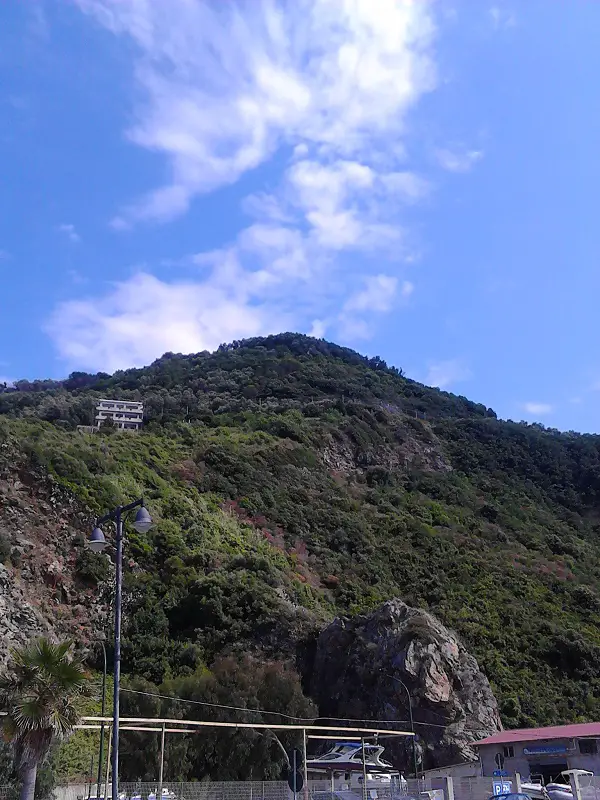 The drive down to Palmi beach
Palmi is located on the Viola Coast close to Reggio Calabria. The drive down to the seafront of Palmi is extremely spectacular. Surrounded by the giant towering rock cliffs of the mountain driving down a serpentine road is another experience. Once you reach the bottom, you can see a spectacular rocky coastline with a beautiful beach and views right across the coast.
After a wonderful swim, we had lunch in a restaurant with one of the most incredible sights. The view of a very interesting peculiar-looking rock in the middle of the sea with an olive tree growing right on top of it. It looks like it has been there for a very long time as it well rooted into the rock. Palmi is famous for its centuries-old olive trees. A spectacular rocky coastline with some of the best beaches, some only accessible by boat.
A paradise for divers
You can even sight dolphins happily leaping in the air. A multitude of fish species are in these waters such as sea urchins, starfish, octopus, tuna and other crustacean species. A paradise for divers and for fishermen. We ate some wonderful seafood in this delightful seafront restaurant. The speciality along the Viola Coast is swordfish.
Seafood specialities
You can see many of these strange-looking fishing boats out in the waters between Messina and the Viola Coast with towering masts. Swordfish is cooked in many different ways. Sicily and Calabria have their own unique recipes but both share the recipe of "pesce spada alla ghiotta", swordfish with a tomato sauce, capers and olives. Definitely a must.
The Calabrian recipe is with chili pepper. If you want something plain, you can order grilled swordfish with a slice of lemon. Spaghetti with clams is another seafood speciality here. The swordfish festival takes place in nearby Bagnara on the second Sunday of July and Scilla in the month of August, both close to Reggio Calabria.
Scylla's rock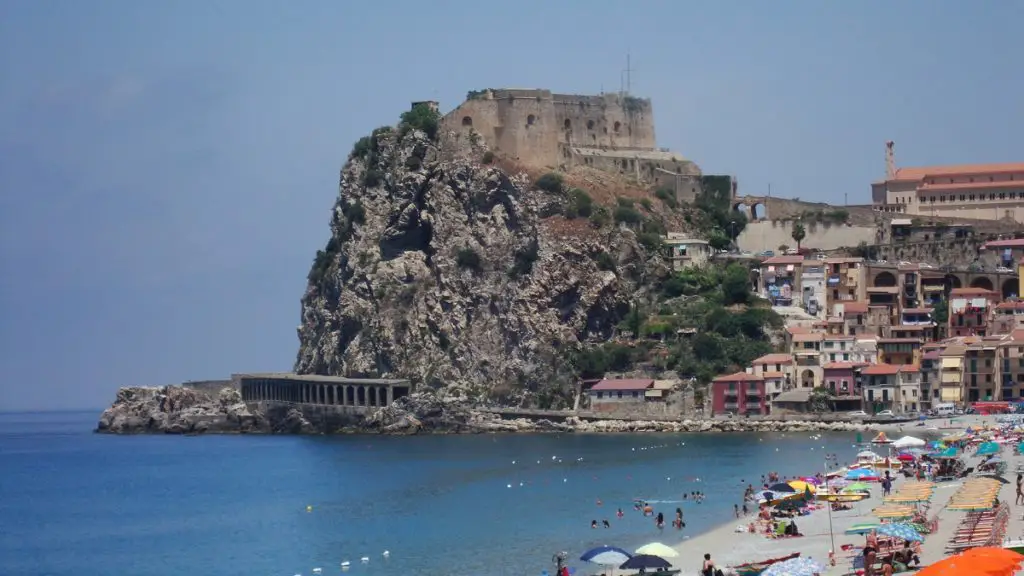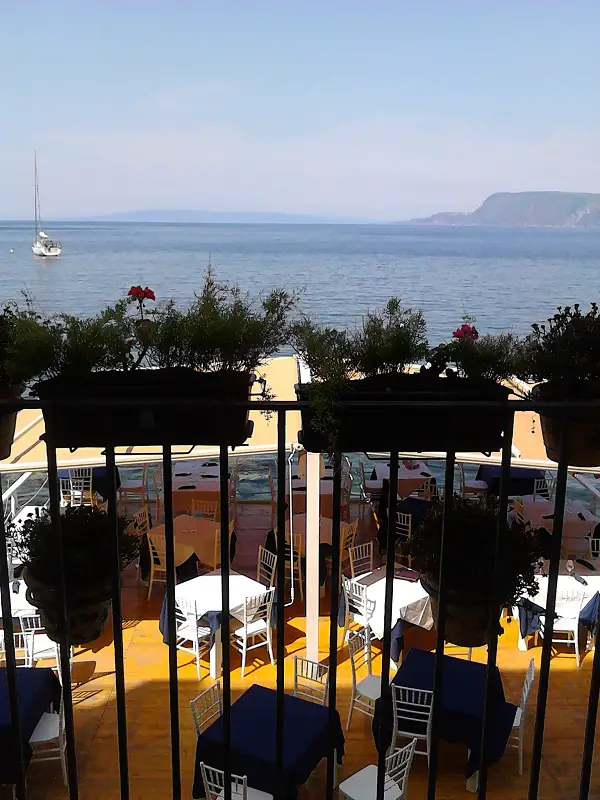 Strong currents in the straits of Messina
The currents can be very strong in these waters, especially during the winter. Fierce waves crash against the rocks and sometimes during seastorms, the seawater floods into towns along the coastline such as Scilla, reaching at times, the first row of houses. The imposing Ruffo castle built by the Saracens in the ninth century is perched right on top of Scylla's rock, the beautiful nymph who was transformed into a six-headed sea monster because of Circe's jealousy for Glaucus.
The myth of Scilla
It was here that Scylla would swallow all sailors and wreck passing ships, except for Ulysses even if he had lost six of his crew. According to Greek mythology, Scylla was turned into a rock. We can see this rock from every corner of Scilla as it dominates the breathtaking landscape. The best way to see it is from the sea.
The waters in the summer can be very calm, idyllic, at times, resembling a mill pond and it really is something special to look at from the town's spectacular view point or from your hotel's sea view. In winter, it is a different scene. You see ravaging waves beating against the shore. It is spectacular but a little scary. The locals say they are used to it and prepare themselves for the winter.
I recommend staying in hotels with a sea view in Scilla for something extra special. Many hotels offer this incredible view. Restaurants in Chianalea are equally as special as they overlook the sea. You can read about my weekend to Scilla.
The elephant rock in the Sila plateau
High up in the Sila plateau, we can find another interesting rock formation resembling a giant elephant with a downward trunk. There is also another rock close to it. This site in Campana is known as the giants of the Sila. It is said that these giants were sculpted by an ancient civilisation. Many people have their photos taken in front of these colossal and fascinating rocks.
The anvil rock and rocky castle in Roseto Capo Spulico
Another interesting rock formation is the Anvil rock located in Roseto Capo Spulico, another seaside town to visit located in the province of Cosenza, famous for its rock sculpture and its castle along with its beautiful sea and beaches. One side of the castle is practically on the sand and looks as if it has been carved out of the rock.
It is the landmark of this pretty resort. I remember driving along this narrow coastline and turning a sharp bend and all of a sudden, this monumental castle was in full view. it reminds me of a fairy-tale castle. Roseto Capo Spulico gets very busy during the summer months. There are many hotels and holiday resorts available as well as plenty of concerts and things to see and do. Another recommended town to visit.
The rock of Pietragrande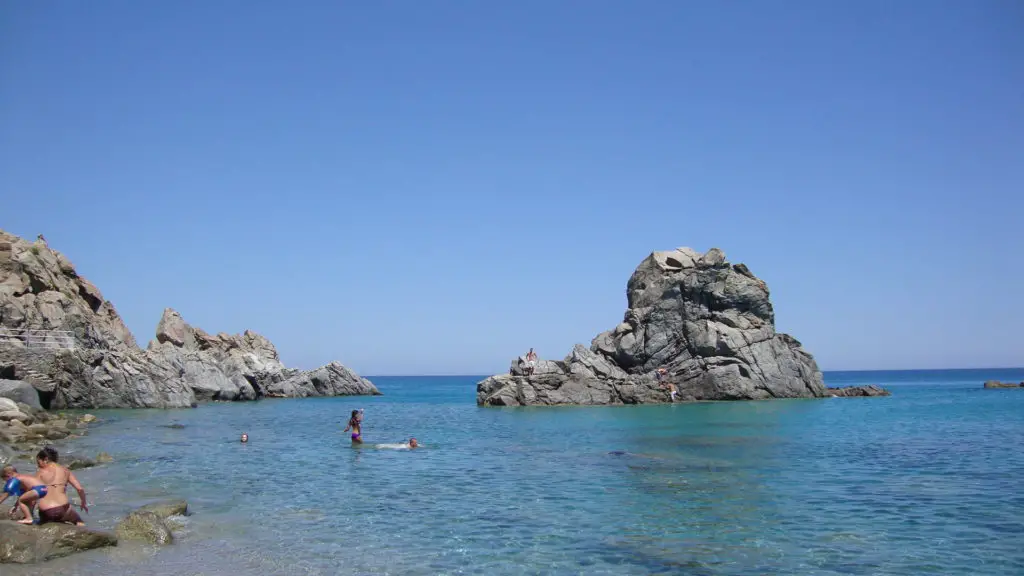 It is located on the Orange Coast "Costa degli Aranci" near Soverato. The district takes its name from this giant rock in the middle of the water. A very popular holiday resort during the summer when all bathers come to swim around the rock and dive off it. It is one of the best beaches in the area. You can read more about Pietragrande in my previous posts. Another rocky coastline. There are more incredible rock formations, but I just wanted to share with you some of my favourite ones.